It is indeed the 21st century no doubt and we are close to the New Year. In a few days we will say goodbye to 2008 and Hi to 2009. Guess who refuses to catch up with the times?

Israel apparently lives in the Dark Age's mentality. Today the 27th of December which is ironically a Sabbath day Israel attacked yet again the Palestinians. This time after starving them for years it broke the truce by air strikes and naturally the resistance attacked back with their Qassam rockets (katyusha). It's now very clear that Israel was fishing for an excuse to launch a full scale massacre on barefoot starving homeless people.

Very similar to the 2006 attack on Lebanon where they killed thousands of civilians and destroyed the countries infrastructure because Hezbullah kidnapped a soldier to exchange him with some of the 11,000 captives that Israel hold without trial. Of course everyone knows how humiliated Israel was after a month of defeat and global uproar against its barbaric mentality.

Today, in an attempt to save its dignity Israeli picked a fight with a defenseless people that live within it caged in a prison called Gaza. With only 139 square miles with a population of 1.5 million Israel began heavily and cowardly bombarding this area with F16 on defenseless people. Just within half an hour 155 where killed and 200 injured. Hamas announced that 40 of its men were martyred which makes you wonder about the rest of the dead. With a very cowardly and shameless statement about the bombardment the military spokesman Avi Benayahu said "only just beginning,"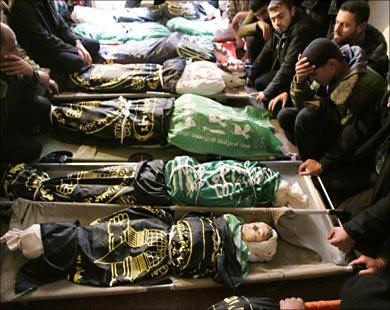 What kind of word do we live in that allows such actions to take place. Ironically Zionist take offense to being called Nazis for some reason. I'm sure that the "ist" of the future will take offense to being called a Zionist. These regimes can not last because the natural system rejects them and 60 years of this nonsense is almost reaching the over limit line. The scenario is repetitive, the Zionists will be abandoned, chased around and killed like dogs.

Just like all the racist ideologies before it, it will end in a glamorous victory to freedom and resistance and go down in history as another black dot in its white sheets. People will look back and say "Why didn't people say nor do anything back then to help stop the Zionists?" The choice is yours. Do you want to be among the majority of cowards or do you want to be among the few that stood against it.